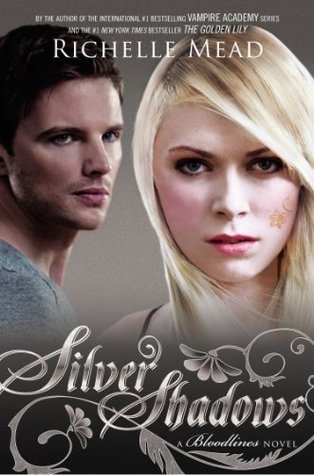 I'm not sure I have the words to properly describe Silver Shadows. The first three books in this series didn't impress me much, so I wasn't prepared for what I encountered when I started turning pages. This was one of those books where my face twisted with disgust on some pages. Other times, I couldn't take it and slammed the book shut. These are all good signs, though. the book is meant to be a bit terrifying. Richelle Mead did good work, because I had at least two dreams involving restraints and needles while I made my way through her latest book.
For a quick recap, the Bloodlines series is about Sydney Sage – an alchemist dedicated to keeping the vampire world a secret from humanity. She is charged with keeping things in order while Jill Dragomir, only family to the Moroi queen, hides in a human high school. There's a law that says every monarch must have one living relative to rule and Jill's life is in danger from those who wish to see the queen off her throne.
Of course, nothing is ever so simple when dealing with magical creatures or the Strigoi, undead creatures of the night is a particular taste for Moroi blood (although humans will do if they get in the way). If only those were the only problems Sydney had.
I gave The Fiery Heart, the book that came before this one, three stars. It had the same flaws as the two books that came before it. These characters are stubborn and I don't buy that they would change their minds so dramatically so fast. That's behind us in Silver Shadows. Accepting the story as it is, Silver Shadows was a terrifying emotional roller coaster, made all the more disturbing after learning Richelle used 'persuasion' techniques currently used to 'treat' homosexuality today.
Sydney Sage, our dear heroine of the Bloodlines series, finds herself in deep shit. This stuff is nothing to mess with and any other person in her situation would have gone crazy long ago. While I may not approve of the pace the story has taken up to this point, I have come to love Sydney. She's extremely strong and capable, protecting those important to her in her own way. She's not a physical fighter and she doesn't brandish a weapon. Instead, she gets by with her brain and bravery. I don't know how she found the will sometimes, as Silver Shadows can get quite dark. I love her, though, because she shows how strength and bravery can exist without muscles and fighting.
Adrian, who we can call the hero of the story, is also unique. He may be a self-described pretty boy, but he's also different from every guy we see in YA. He's not really much of a fighter…. and not much of a thinker either. His is a character that struggles, falls, and rises up again and again.  There's a true humanity there. He's not a terrible person for having moments of weakness. If anything, we see him use those moments as motivation to rise above.
Silver Shadows made up for the rest of the Bloodlines series. Honestly, I would tell anyone to read this series if only to get to this book. It's exciting, terrifying and courageous. I was on the edge of my seat for the last half of the book. The one thing that made this book a million times better than all the books that came before was the pace. Nothing seemed rushed.
And, of course, in true Richelle Mead fashion, there's a terrible cliff hanger. The last book in the series, The Ruby Circle, comes out February 10th. I can hardly stand the wait.